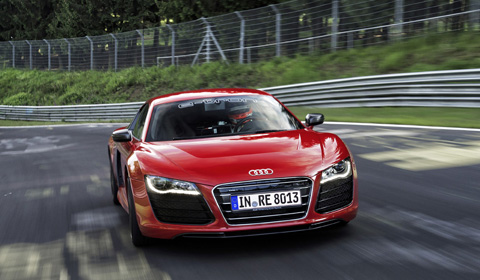 Following its success at the 24 Hours of Mans which marked the first ever overall win for a hybrid powered car, Audi has set a world record for electric-drive production vehicles at the Nürburgring. Markus Winkelhock drove the all-electric Audi R8 e-tron around the 20.8-kilometer long Nordschleife in 8:09.099.
The lap time of the Audo R8 e-tron matches that of the Renault Megane RS Trophy, Audi RS4, BMW M6 E63, and the Honda NSX-R. The e-tron is not even the fastest electric vehicle; the Toyota TMG EV P001 has set the lap record for an electric car in August last year with a time of 7 minutes and 47.794 seconds.
But whereas the TMG EV P001 was a converted a Radical sports racer, the drive system of the Audi R8 e-tron that Markus Winkelhock drove to the world record corresponds in every detail with that of the production model that will come on the market at the end of the year.
The R8 e-tron is powered by four electric motors ‒ two each at the front and rear axles driving all four wheels ‒ with a total output of 313 horsepower and a whopping torque of 4,500Nm(!). The two-seater accelerates from zero to 0 to 100km/h (62mph) in just 4.6 seconds. Its top speed is normally limited to 200 km/h (124 mph), but for this record attempt it was lifted to 250km/h (155mph).
The R8 e-tron's rechargeable lithium-ion battery stores 49 KWh of energy – enough for a distance of about 215 kilometers (134 miles). It is charged by energy recovery during coasting and braking. Despite the large battery the R8 e-tron only weighs 1,780kg (3,924lb) thanks to the extensive use of aluminium and carbon-fiber-reinforced plastics.
Most likely the production version of the Audi R8 e-tron will make its official debut at the Paris Motor Show this September.