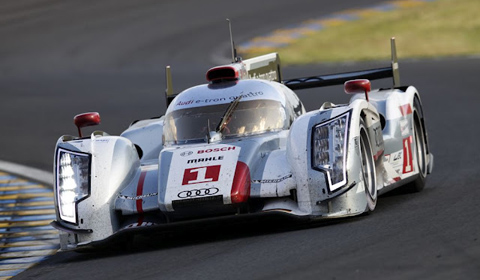 Audi dominated the eightieth edition of the 24 Hours of Le Mans. The race was won by André Lotterer, Marcel Fässler en Benoît Tréluyer in the hybrid Audi R18 e-tron Quattro, the first ever overall win for a hybrid powered car at the world famous endurance race. This result marked the eleventh victory for the German car maker, who also finished second, third and fifth.
Toyota's return to Le Mans was less successful despite its good pace. Anthony Davidson has sustained a broken back following a massive crash in which his Toyota TS030 Hybrid went airborne. The other Toyota also failed to finish as Kazuki Nakajima made contact with the experimental Nissan DeltaWing. The rear bodywork of the Toyota was damaged beyond repair. The DeltaWing was forced to quit the race because of damage to its front end.
The LMP2-class was won by Enzo Potolicchio, Ryan Dalziel en Tom Kimber-Smith in the Honda powered Starworks Motorsport. Ferrari was victorious in the GTE Pro-class with the 458 Italia driven by Giancarlo Fisichella, Gianmaria Bruni and Toni Vilander. The GTE Am was won by Larbre Compétition, which entered the race with a Chevrolet Corvette C6.R driven by Pedro Lamy, Patrick Bornhauser en Julien Canal.