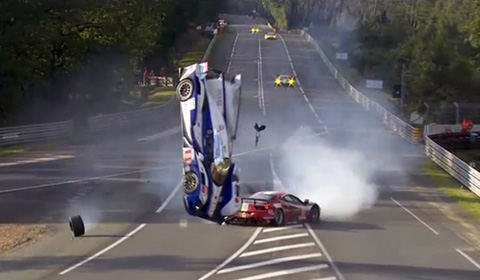 A massive crash involving Anthony Davidson in his Toyota TS030 Hybrid happened in the fifth hour of the 24 Hours of Le Mans 2012.
Davidson tried to lap the AF Corse Ferrari driven by Piergiuseppe Perazzini on the approach to Mulsanne Corner. The Italian apparently didn't see him coming and just shut the door for the Toyota driver. The Ferrari collided with the Toyota, which flipped through the air before crashing into the barrier. The Ferrari also flipped on its roof after hitting the barrier.
Perazzini was able to get out of his car but Davidson initially climbed out of his car before laying down on the car's sidepod. He was taken to the medical center and Toyota has confirmed Davidson is fully conscious, but suffers from shock and back pains.
If you would like to follow the 24 Hours of Le Mans 2012, then please check our list of live streams via this link.