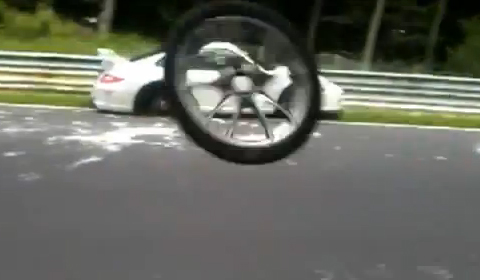 The Nürburgring quite often provides a lot of entertainment as proving ground for man and machine, but the famous and notorious Nordschleife also demands respect as it is known for its high number of expensive accidents.
Last Friday a Porsche 997 GT3 RS 4.0 crashed in front of some people, who got almost more than they bargained for. Apparently the Ring also demands respect from the spectators as well.
The 911 GT3 RS 4.0 is the final evolution of the 997 and powered by a 4.0 liter engine. The engine itself uses the crankshaft from the RSR with increased stroke dimensions (from 76.4mm to 80.4mm). This change has increased the power to 493hp at 8,250rpm and 460Nm of torque at 5,750rpm. Chassis development has been influenced by the GT2 RS and uses bits from other RS 911s.
[Via Autogespot.nl]