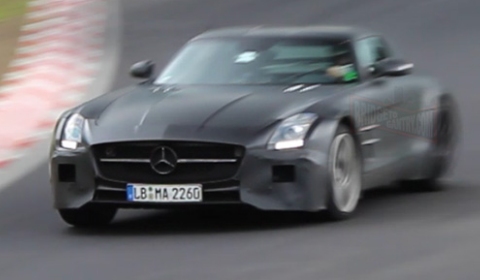 The guys over at BridgeToGantry.com have released a video on their YouTube channel showing a series of test mules lapping the Nurburgring Nordschleife in the city of Nurburg, Germany.
The video shows the Mercedes-Benz CLS Shooting Brake, which will make its official debut next week at the Goodwood Festival of Speed 2012, the upcoming 2013 Porsche 911 (991) Turbo with an interesting new rear wing, and the upcoming Maserati Quattroporte with a newly developed twin-turbo engine. You will also see a BMW 4-Series test mule, a BMW F12M M6, a BMW F10M M5 and a yellow Porsche 911 (991) Carrera S lapping the famous 20km-long race track.
They also filmed the 2013 Mercedes-Benz SLS AMG Black Series. The car is wider, lower and looks as though its spend more time in the gym! The SLS AMG Black Series will get a new front bumper, side skirts, widened wheel arches, air inlet in the hood, and other modifications. The current 6.2 liter V8 should get uprated to 650 horsepower along with a similarly uprated price tag of € 260,000 ($ 338,310).