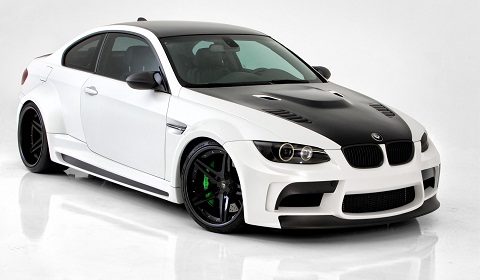 Vorsteiner released a limited edition GTRS5 today. It will be one of the final tuning kits for the E92 BMW M3, limited to just 40 worldwide with sales already taking place. The Vorsteiner GTRS5 features aerodynamic and cosmetic enhancements taking parts from Vorsteiner's GTRS series.
The kit includes a front bumper with integrated with chin spoiler, wide arch front fenders, extended side skirts, wide arch rear quater panels. All of these parts are made from pre-preg autoclave carbon fibre. In terms of cosmetics, Vorsteiner provide a set of embroidered floor mats, a chrome trunk badge emblem, Vorsteiner VS-310 three-piece Concave Forged Aluminum Wheels and Nitto Invo Performance Tires.
Most of the parts contribute to the aerodynamic effeciency, downforce or air flow of the car. Optional parts include the GTS3 hood with carbon fiber ventilation louvers and the GTRS3 carbon fiber aero boot lid. Vorsteiner will also fit their own titanium exhaust system which adds 10hp to the M3's standard 420hp.It's a bolt-on system that requires no modification to the factory components.