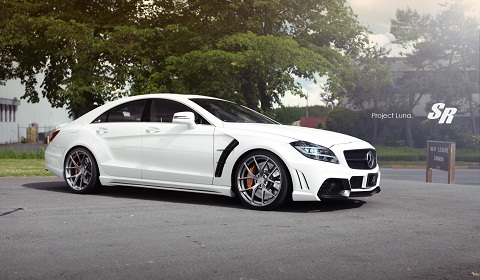 SR Auto Group recently finished a Mercedes-Benz CLS 63 AMG named Project Luna. The project features the Wald Black Bison bodykit and a set of PUR Wheels. The Wald International Mercedes-Benz CLS is one of our favourite tuning packages, coupled with the CLS 63 AMG engine and a set of PUR Wheels, this particular car is one of our all-time favorites!
Wald have provided their complete 'Black Bison' kit for this car. It includes an aggressive new front fascia, new LED daytime running lights, ventilated fenders and an aerodynamic side skirt. At the back, there's a new set of rear air vents, a roof spoiler, boot spoiler, diffuser and quad-exhaust system.
The wheels are twenty inch PUR 4OUR. They feature a gunmetal finish which complements the white paintwork. We're not sure which version of this car we like the most, brushed blue, matte orange, silver or black.