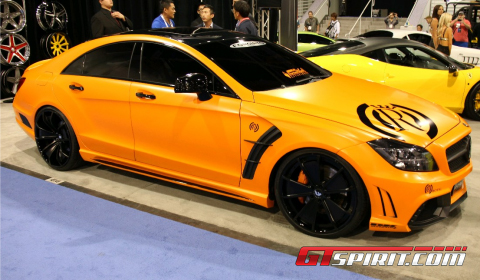 Wald International, a growing Japanese tuning company, released details of their tuning package for the C218 Mercedes-Benz CLS back in March. Today we spotted this CLS in North America at SEMA 2011. Wald International focused only on the aesthetics of each vehicle. This Mercedes definitely stood out to us.
Wald have provided their complete 'Black Bison' kit for this car. It includes an aggressive new front fascia, new LED daytime running lights, ventilated fenders and an aerodynamic side skirt. At the back, there's a new set of rear air vents, a roof spoiler, boot spoiler, diffuser and quad-exhaust system fitted by Royal Mufflers. It looks as though all the parts are finished in carbon fiber.
Forgiato wheels have been used on this car, however, we couldn't find them on the company's website so we guess they are unique to this car. The US importers of for Wald Internaional, Jonari, are calling this the Halloween Edition. What do you think of this car?