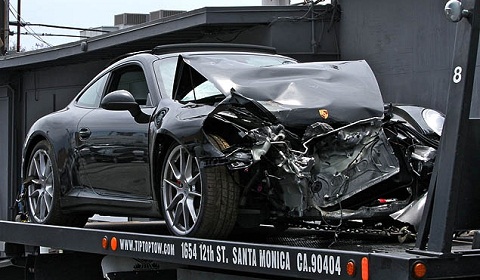 One of the biggest stories currently doing the rounds on the internet celebrity gossip sites involves Lindsay Lohan and a brand new 2012 Porsche 911 (991). It appears that Lohan has had yet another accident during the week, writing off the brand new Porsche by crashing into the back of a truck. TMZ reports that Lohan was temporarily hospitalised by the incident, however, we are told that she was not injured.
Reports suggest that Lohan was driving the Porsche at the time with her assistant in the passenger seat. There is some suggestion that the car was a rental. The entire front was wrecked as the car clearly hit the back of an 18-wheel truck. Lohan reportedly blamed the accident on the truck driver changing lanes without any indication. The truck driver appears to be claiming the opposite, that Lohan simply drove into the back of trailer.
Following the incident, Lohan was bundled into the back of a Cadillac Escalade and taken to hospital while her assistant was taken in an Ambulance. Police are investigating the incident and have confirmed so far that neither of the drivers were intoxicated.
[Picture by NYDailyNews]