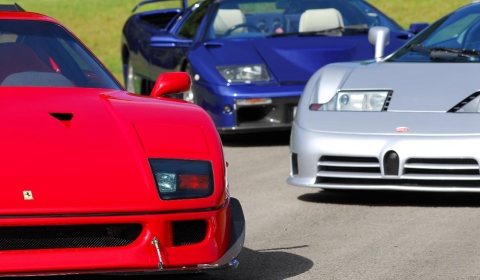 A supercar event will be held for the very first time at Brooklands on Sunday July 15th 2012. Supercar Sunday will feature Aston Martins, Bugattis and Ferraris, mixing it with Jaguars, Lamborghinis and Maseratis, along with top-end Alfa Romeos and the odd Koenigsegg – plus many more supercars.
Among the expected rarities already due to attend are an Aston Zagato, AC 378 Zagato and a Jaguar XJR15. The idea of the event is to give spectators an opportunity to get really close to these cars and to see them in action.
Tickets are priced at £10.00 for adults, £9.00 for senior citizens and students and £5.50 for children aged 5-16. Children under five are admitted free of charge. Family tickets (for two adults and up to three children) cost £27.00, but – if you own a modern supercar or superclassic of any marque – and you would like a free ticket to join the exclusive display, and potentially to take part in the track demonstrations, then let GTspirit know and we will guide you to the organization dealing with this matter.