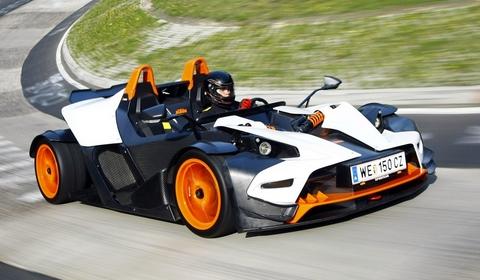 Do you remember the KTM X-Bow Montenergy or the third party KTM X-Bow with a roof (check below)?
About a year ago we reported on a KTM X-Bow sports car which has a closed cabin instead of the normal open two-seater configuration we all know. According to Top Gear magazine, the Austrian manufacturer will also offer a version of its relentlessly track-focused X-Bow with a windscreen. And it will even have doors!
Stefan Pierer, CEO of KTM AG, told the car magazine that they challenged a lot of difficulties fitting the windscreen and the doors to the carbon fiber monocoque. There won't be a standard roof, but a temporary cruising home parasol that clips over the windscreen and is good for up to 130km/h. Quite similar to the roof used on the Bugatti Veyron Grand Sport.
Following this news they will attempt an assault on the LMP2 category at Le Mans, possibly using a five-cylinder engine sourced from Audi. The turbocharged TT-RS engine fits in the X-Bow engine nicely and could also end up in the road car.