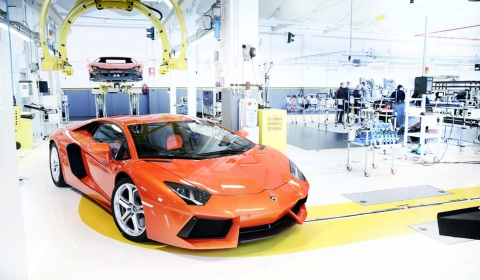 A wide area close to the Lamborghini factory in Sant'Agata Bolognese was struck by a sequence of earthquakes that started on May 20th, two further large earthquakes struck on May 29th and small tremors continue to hamper the rebuilding process as of today.
The Italian supercar manufacturer revealed the extent of the earthquakes damage with us today. The earthquakes which have hit the Northern part of Italy did not damage the factory of Automobili Lamborghini in Sant'Agata Bolognese which is perfectly accessible nor did they affect the Gallardo production.
Since some key Aventador suppliers have had to slow down and in some cases relocate production of specific key components, there might be potential delays in the delivery of the V12 supercars. The Italians are working with the local authorities and its partners to rebuild and to normalize supply as quickly and safely as possible.
Furthermore Lamborghini decided to help those employees and their families who live in the area around the epicenter. This includes the possibility of an anticipated holiday allowance, but also individual help to those who have been particularly hit by the earthquake.
Additionally, in order to guarantee the future of the students in the region Lamborghini decided to provide financial support in the field of education, in particular for the reconstruction of five laboratories that are part of school centers in the affected region.
Like Lamborghini, Ferrari is providing a similar relief after the earthquake. An international online auction will raise funds for the families of the victims of the earthquakes that have rocked the Emilia-Romagna region.