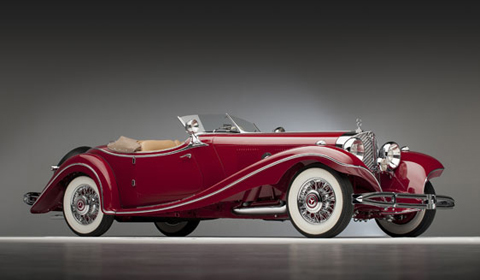 Remember the classic Mercedes 500 K which was confiscated by the German police back in March? Now a court in Hamburg has ruled that Hans Prym's grandchildren have a valid claim to the rare Mercedes worth almost € 3.0 million because it was illegally seized from the German industrialist in 1945.
The 1935 Mercedes-Benz 500 K Roadster by Sindelfingen was bought by Dutch car collector Frans van Haren at an auction in the United States for a price of $ 3,767,500 (€ 2,8 million euros). When Van Haren exhibited the Mercedes at the car show Techno Classica in the German city of Essen, it was impounded under court order.
The classic Mercedes was claimed by a custodian acting in name of the heirs of the first owner, German industrialist Hans Friedrich Prym. The Prym holding company is one of the oldest family business in Germany. It was suggested that Prym sold his Mercedes-Benz 500 K Roadster to an American soldier in 1945. But according to the Prym family, the Mercedes wasn't sold but stolen. The court in Hamburg has now ruled that there was no evidence that the American troops were entitled to take the car.
In retrospect, the decision by Frans van Haren to take the classic car to Germany turned out to be a very bad one for him, as the car became eligible for impound immediately after its return. According to German law, the statue of limitations is 30 years. A statute of limitations is an enactment which sets the maximum time after an event that legal proceedings based on that event may be initiated. The court has said the statute has not yet expired in this case, because it is in only in effect for the time the car has been in Germany.
This is good news for the Prym family, but very bad news for Frans van Haren who has bought the car in good faith, but is set to lose both the car and the money he spent on it. At this stage it's unknown if Van Haren will appeal the ruling.
[Via Bloomberg]