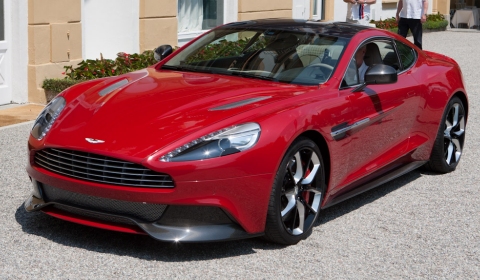 Aston Martin took their latest concept, the Project AM 310 to Villa d'Este this weekend. It's the first time the car has been displayed in public. Aston Martin yet to release official pictures, details or even simply confirm the Project AM 310 as an Aston Martin concept. Visitors to the 2012 Concorso d'Eleganza Villa d'Este have got the scoop though with plenty of videos and pictures of the DBS Successor filtering through.
One of the very best comes from YouTube user NM2255 who caught the new Aston Martin revving several times during the course of the event. As you would expect from an Aston Martin, the sound is truely incredible. The V12 growl is still evident, even though Aston Martin are yet to confirm the specifications.
Just to recap, the Aston Martin Project AM 310 is widely speculated to be the successor, both to the Aston Martin DBS and the Aston Martin DB9. Aston Martin hope that it will kickstart a new era for the British luxury brand, moving away from the DB9 structure and incorporating a new design language introduced by the Aston Martin One-77.
Aston Martin claims that the AM 310 is 75 percent new. It will feature the same 6.0 liter V12 as you currently find in the V12 Vantage, DBS and DB9 models. Power will be 573hp, an increase of 63hp. Other features will include a transaxle gearbox and wishbone suspension, and the familiar 'VH' bonded and riveted alloy frame.
The real changes for the AM 310 will be in the lightweight construction, lower emissions ratings and increased economy figures. Aston Martin will use carbon fiber and aluminium parts for the bodywork with an all-new shape taking design cues from the One-77 and using a higher bonnet to conform with crash regulations. For the first time, the successor will get automatic windscreen wipers and a touch screen navigation system!
Click through to see our renders and compare how close we got to the real thing!