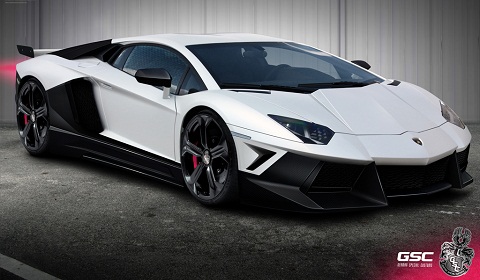 German Special Customs (GSC) released a bunch of renderings at the start of the year. The trouble is, they failed to tell us about them! After seeing their first design, the Mercedes-Benz CLS 63 AMG Stealth at Top Marques Monaco, we now have an insight into what they want to create! We've already presented two of them, the third is the Lamborghini Aventador Triangle body kit, which follows the Aventador Estatura GXX.
The only information available at the moment tells us that this Aventador gets a carbon fiber bodykit. This includes a front bumper, rear bumper, side skirts, rear spoiler and a new hood. GSC tell us that they plan to fit a titanium exhaust system too. It's the second Lamborghini Aventador study coming from the German tuning firm. The only differences we can see between the Triangle and the Estatura GXX, aside from the orange paintwork, appears to be the wing size and the wheel style.
At the moment, the Lamborghini Aventador Triangle is just a rendering. However, now that we've seen the Mercedes-Benz CLS 63 AMG Stealth by GSC on the streets, hopefully these renderings will become reality at some point in the near future. GSC have partnered with established tuners Enco Exclusive to make it easier to bring their designs to life.
GSC have also released renderings of the Porsche Panamera Turbo Nighthawk and the Lamborghini Aventador Estatura GXX.