After the 2012 American Le Mans Series race at Long Beach, GTspirit was able to grab a few minutes of time from ALMS/Le Mans driver David Heinemeier Hansson and ask him a few questions about racing and his one-off Pagani Zonda HH.
David is a self-made programmer born in Denmark and currently working as a partner at 37signals, who make simple web-based collaboration tools. At Long Beach, he was leading his class (third overall) for the majority of his stint, only to be dropped down to second in class due to a late pit stop after a driver change, as are the demons of racing.
He offers some interesting commentary on what it takes to race with the pros – racing isn't his full time job – as well as what it is like to own one of the finest automobiles in the world, a Pagani Zonda.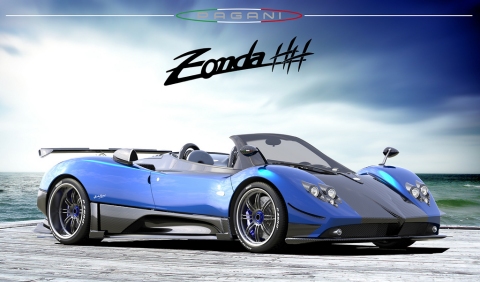 1. How did you become interested in motor racing, and consequently, how did you get started (feeder series etc.)?
David: I've always played racing video games and loved that. All the way back to Supercars II, Lotus Esprit on the Amiga to Project Gotham on the Dreamcast to Forza on the Xbox. Fellow Dane Tom Kristensen's success at Le Mans was an inspiration as well. I first tried a race car in 2007, a Formula Mazda. Raced that six times that year. Then took a break for a bit, then got going with the Cayman Interseries, then IMSA GT3 Challenge, then ILMC/ALMS.
2. It is fairly well known that you own the special edition Pagani Zonda HH. What made you choose a car such as the Zonda? Also, how has the car been so far compared to any other car(s) you own (assuming it's not your daily driver)?
David: Pagani is the world's best car craftsman. It's an amazing piece of rolling art. I feel honored to have been able to purchase one of his creations. As a car, it's also the best street car I've ever driven.
3. GTSpirit readers are car people, so it isn't too much of a stretch to ask what other cars you find compelling, whether for engineering or aesthetic reasons. In addition, do cars still excite you, or are they overshadowed by driving an LMP2 car?
David: For street cars, I love Lamborghini, Aston Martin, and Porsche. The wild, the beautiful, and the functional. Driving on the open road is still special, but it's less about pushing the performance now — more just about enjoying the drive.
4. Driving for Conquest Endurance in the LMP2 category is quite a jump from your stint in the Cayman Interseries and IMSA GT3 Challenge. Has it been difficult to switch to a car that is so reliant on aerodynamic downforce, when compared to GT cars that may technically have better mechanical grip (as witnessed around parts of Long Beach)?
David: I started out racing Formula Mazda and before going to LMP2 I did a bunch of stuff in Radicals. So I had some good practice on downforce cars. I actually find them easier to drive. They are so much more precise.
5. Specifically in terms of Long Beach: You recently completed your first race at the famed street course. How difficult was it to get acclimated to such a tough circuit, especially considering the limited running on Friday due to rain stricken weather.
David: Easier than I thought it would be! I thought I was taking it easy, but I guess that's the secret of street courses: You can't push too hard anyway. So I was pleasantly surprised to see that I got the fastest time in class during my stint. Long Beach is also a pretty short track and there are no big-balls corners. So that certainly helped too.
6. In terms of traction control on LMP2 cars, how invasive is the system? It's obvious that drivers can easily spin the car even with such systems enabled, as apparent at any LMS or ALMS event, so does it mostly just help with traction getting out of the corners, as aerodynamics take over in the high speed stuff?
David: The traction control is nice, but it definitely does not prevent you from spinning in all instances. It's much, much less invasive than street systems. The key help is for low-speed traction out of low-grip corners, like turn 7 at Sebring.
7. Speaking of business, how true is the adage "that in order to make a million dollars, start with five million and go motor racing"?
David: That sounds about right!
8. What are your plans going forward? Is a maiden run at LaSarthe in your future?
David: I'll be racing at Le Mans this year with OAK Racing in the #35 car.
9. In terms of skill; how important is raw talent when compared to some of the more teachable skills in terms of racing?
David: I think most things can be learned with enough perseverance. You might not be the next Ayrton Senna, but you can surely become good enough to play with the big boys.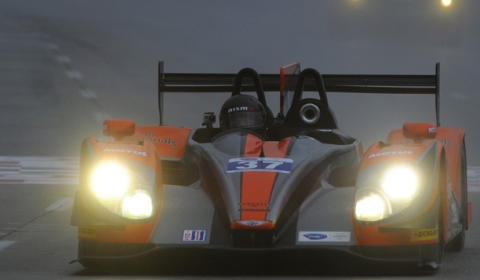 10. How true is the idea that race drivers feel safer on the track than on the road with other drivers?
David: Absolutely true. I fear minivans driven by people drinking lattes and texting on their phone much more than going off on the track.
11. What is your favorite race track you've driven including European tracks you have yet to visit? Also, how do you prepare for a race weekend?
David: Hard to pick just one. I love Sebring and Road Atlanta, though. Very much looking forward to racing at Le Mans, Spa, and Nurburgring. Watching as many on-board YouTube videos I can find and play the track on a simulator. Then visualize doing laps in my head.
12. In closing, any advice you have for aspiring business founders or race drivers?
David: There is no speed limit. You can learn to be great at what you do much faster than you (or others) believe.