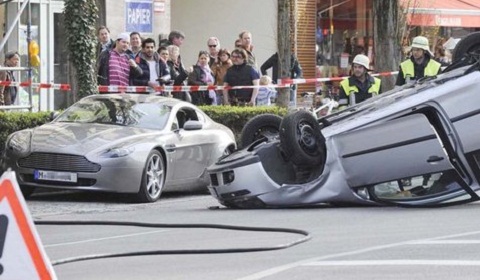 Last weekend, a third accident happened in Munich involving an Aston Martin V8 Vantage. It seems that last Saturday, a 68-year-old woman lost control of her Volkswagen Golf and crashed into the back of the parked Aston Martin.The impact of the accident flipped the Volskwagen Golf onto its roof. It seems that the 68-year old was drink driving.
The owner of the parked Aston Martin was 39-year-old DJ Suat G Günes. He had been sitting in the car when the accident happened. He was later taken to hospital and treated for whiplash and concusion. The driver of the Golf suffered injuries to her hand. The damage to the vehicles is close to 15,000 euros according the the police, however they seem very conservative estimates to us.
This Aston Martin accident was one of three big accidents in Munich last weekend. The first involved a Ferrari 458 Italia on the tram network and the second, a Ferrari 430 Scuderia. This accident happened on Lindwurmstraße in central Munich. It forced the cosure of the road for one and a half hours. The police are still looking for witnesses.
[Via Merker]