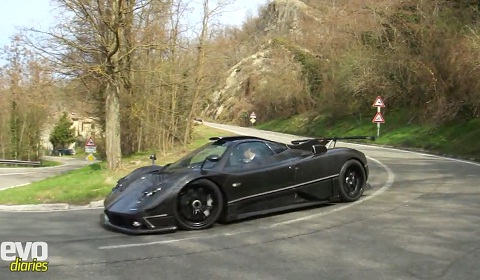 Evo Magazine recently got an opportunity to test the Pagani Zonda 760 RS. Thankfully, they posted a video online, and an article has just been released in the latest edition of the magazine. We say thankfully because at the moment, we're yet to get official details for the Zonda 760 RS. We do know that it has been shipped to its new owner in Chile which extinguishes any possibility of seeing it on European roads again.
As the name suggests, this is the most extreme Zonda ever. It features a 760hp engine, some 90hp more than the Zonda Cinque and 20hp more than the Zonda R. Instead of lifting the engine from the Zonda R, it uses a Zonda F as the basis with a range of enhancements, most likely lifted in part from the Zonda R. This means that it has been extensively tested to ensure it is capable of such power outputs.
The decision to produce this particular car has been pushed by owners of the Pagani Zonda R who wanted a version they could use on the roads. Of course, the engine in the Zonda R, and many of the mechanical parts, are completely unsuited to a road car. Instead, Pagani managed to get the necessary horsepower from a more standard Zonda Conque engine, ensuring some degree of comfort.
It's an incredible machine. As you would expect, the Pagani Factory got the naked carbon fibre weave spot on. The wheels now measure 10 inches in width to put down the power and the body gets extra bolted-on wheel arch extensions. The video follows Drive's visit to the Pagani factory, a video we said yesterday was a must see. This one is even more so!
Once again, Harry Melcalfe confirms that Lewis Hamilton will get a Pagani Zonda 760 LH. Enjoy with the speakers turned up high!