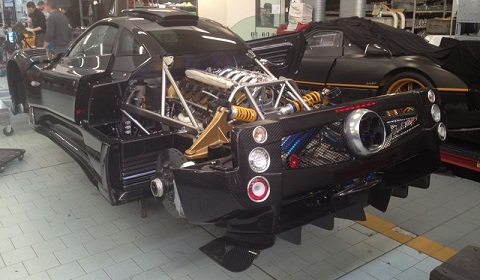 Finally, a better view of the Pagani Zonda 760 RS has been offered via a video posted today from a visit to the factory by YouTube user OuncesofAwesome12. We were also at the Pagani factory last week, we kept our photos quiet but we've now added them for you to take a look at too. The car isn't quite finished yet, a lot of finishing touches have to be applied, especially considering it is the most powerful Zonda ever built!
So what is the Pagani Zonda 760 RS? It originated as the Pagani Zonda 750 which is presumed to have never been produced. The 760RS came as an evolution of this project. The 750 is said to have been ditched after the customer, an Arab family, decided not to go ahead with the build. It has been suggested that the car will go to a Chilean customer, however, we aren't sure at the moment.
As the name suggests, this is the most extreme Zonda ever. It features a 760hp engine, some 90hp more than the Zonda Cinque and 20hp more than the Zonda R. Instead of lifting the engine from the Zonda R, insiders say that it uses a Zonda F as the basis with a range of enhancements, most likely lifted in part from the Zonda R. This means that it has been extensively tested to ensure it is capable of such power outputs.
The styling of this car makes it instantly distinctive from any other Zonda we've seen. It features a fin that runs down the center of the car used for stabilizing the air flux behind the rear window. It gets a sequential gearbox, a carbon finish exterior and black interior. It also gets a complete set of Cinque parts including the rear air ducts and the roof air intake.
Inside, the carbon fiber continues, covering footwells, doors and parts of the dash board. Zonda 760 RS has been etched into the gear shift surround and the central dash board. It's a very dark, yet very elegant finish, befitting to Zonda with such power!
Let us know what you think of the Pagani Zonda 760 RS. As you can probably tell, we love it to bits already!