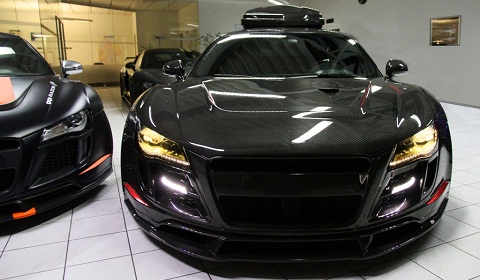 Back when Jon Olsson took delivery of his PPI Razor GTR we featured a few shots, together with the detail we already knew about the Razor GTR's design and a few observations. It seems full details have now made it onto the internet so we're able to fill in the blanks. A new set of photos appeared via PPI Design too, so while we wait for the full Oskar Bakke photoshoot, you can take a closer look at the details.
The basis for the project was an Audi R8 V10. PPI Design then ripped the body off, replacing every body panel with 600 gram heavy weave carbon fiber. This allowed them to create the unique PPI Razor GTR body that fits so well to the Audi R8. 10 layers of lacquer protect all that expensive carbon fiber. The glass was also removed and replaced with lightweight racing-grade Makrolon Glass.
PPI Design had to cater for the car's intended use as a ski-resort cruiser which meant a number of unique modifications. The lower valence received reinforcement and a PPI engineered hydraulic lift system was fitted the front and rear of Jon's Razor GTR.
The obvious bespoke addition for this particular PPI Razor GTR is the ski box. PPI Design finished it in full carbon fiber. This allowed them to specially mold it to the roof, optimising it for use at high speed. It has a diamond Alcantara lining, LED lighting and a secondary power supply to run the carbon-look ski boot heaters!
The interior is again, completely bespoke. It uses black Alcantara with contrasting red stitching and carbon fiber to create a comfortable space. Jon's sports logo was also incorporated onto the seats and carbon fiber threshold plates. Other tailored parts include the steering wheel, the lightweight racing seats and an aluminum plaque designating the car. The seats alone save 36.8kg of weight!
The PPI Razor GTR normally features a naturally aspirated V10 engine with over 601hp produced at 7,400rpm, torque is 565Nm at 6,400rpm. The 250kg weight savings usually allow it to achieve 0 to 100km/h (62mph) times of just 3.2 seconds (with a modified R-tronic Gearbox) and a maximum top speed of 335km/h. However, we've heard that Jon has instead shipped the car to Stasis for power upgrades boosting that to 710hp.
As a parting statement, PPI Design's final words were:
Unlimited Details. Unlimited Imagination… Whether you need 18kt gold foil on the outside of your vehicle or all aluminum parts made with pure platinum, Alligatorskinned seats? Ostrich leather? Custom Matte vehicle painting? Rare woods, rare fabric, and rare metals? 18kti gold-plated Carbon Fiber? Or even bio-safe and ecofriendly materials.

Whatever your desire is, PPI Automotive Design will make it work for you.