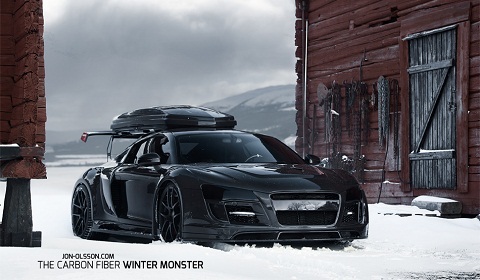 Jon Olsson took delivery of his full carbon PPI Design R8 Razor GTR over the weekend. Complete with his signature roof box, the Audi R8 V10 features a complete carbon fiber body featuring a 600 gram mesh. Jon's been busy recently putting together a world class ski event in Åre, Sweden. He managed to find around 11 minutes to get his new ride photographed today so we have three photos to share with you ahead of a full photoshoot some time in the not too distant future!
Just to recap on the PPI Razor. It features a normally aspirated V10 engine with over 601hp produced at 7,400rpm, torque is 565Nm at 6,400rpm. The extensive use of carbon fiber reduces the cars weight by 250kg over its serial counterpart (serial curb weight V10 R-tronic: 1,625kg). This means it is able to achieve speeds from 0 to 100km/h (62mph) of just 3.2 seconds (with a modified R-tronic Gearbox) and a maximum top speed of 335km/h.
Jon opted for a set of Stasis power upgrades so instead of the above quoted power figures, Jon's car should have 710hp. He also got a set of ADV.1 wheels.
The pictures reveal more about the car than our words ever could. It's jaw-droppingly beautiful, complete carbon, with massive attention to detail and a crazy blacked-out look. We absolutely love it! Let us know what you think in the comments box below!