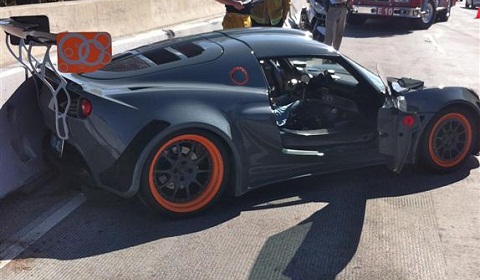 It seems that the (self-proclaimed) Worlds Fastest Lotus Exige, also known as the Ronin Exige, was involved in an accident this week. The owner, Frank Profera took to YouTube to explain that the highly-tuned Lotus Exige hit the central reservation on California's Route 101.
We quote: (edited for family viewing…)
I was rear ended by some f**kin c**t in a Porsche while on the fwy. He hit my left rear and spun me, I ended up in the right side wall…. I can't wait to see this f**kin c**t in jail for a hit and run…F**kin c**t Porsche owners…No one in front of me or in ether laneon my side and this c**t hits me up the ass…what does that tell ya about Porsche owners…always lookin for a cute ass even if it's an old dude
Naturally, amateur crash scene investigations carried out across several prominent internet communities have failed to verify the details above. We don't want to get involved in that though so we'll just tell you about the car instead!
Obviously, it isn't the worlds fastest Lotus-chassis supercar. That honour undoubtedly goes to the Hennessey Venom GT. That doesn't detract from how special it is though. It features the original 1.8 liter Toyota engine rather than the V8 unit fitted to the Hennessey. Extensive tuning with many custom parts raised the horsepower figure close to 700.
It seems the accident was one of two the owner had this month. We're also told, via FerrariChat, that Frank's yacht in Malibu burnt down. That's some very expensive bad luck.