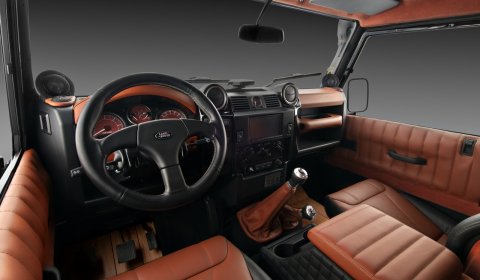 This is the latest program from Vilner. The Land Rover Defender received a series of improvements inside the cabin.
The interior has been covered in brown and black, using Nappa and Alcantara. There is leather on the doors, the dashboard, the new sport seats, the grips on the headliner and the sun visor. The sun visor has been covered with Alcantara; the same applies to the rear view mirror and the third brake light.
The shapes on the leather, the new elbow rest and the bottom of the seats reflect an athletic vigor, and the piano lacquer subtlety. The decision about the floor is eccentric – wooden decoration, a motive that embellishes the rear arm rest.
The speedometer on the dashboard has the same color as the interior. The Vilner Sound System takes care about the amusement of the passengers: a multimedia system with power of 600W and 15 inch LCD screen connected to the DVD-player has been installed. And of course – the car cab has been soundproofed.