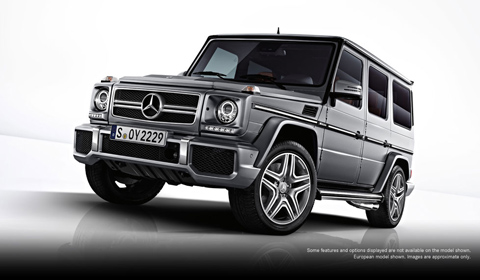 A few days ago the upgraded Mercedes G-Class was officially unveiled, and now the first pictures of the new Mercedes G63 AMG has been released.
The 2013 Mercedes-Benz G63 AMG comes with a new front fascia featuring a similar styled grille and LED lights as the other Mercedes models. Also new are the side steps and fender flares. The sportive aspirations and powerful appearance is further enhanced via red brake callipers and 20 inch wheels.
The G63 AMG is the replacement of the G55 AMG, which was powered by a supercharged 5.4 liter V8 generating 507hp and 700Nm of torque. The upgraded AMG version of the G-Class is now powered by a 5.5 liter V8 biturbo engine which puts out 544hp and 760Nm ‒ an increase of 37hp and 60Nm. The model is also standard fitted with an ECO start/stop system.
It still waiting for the first pictures of its more muscular brother, the V12 powered G65 AMG with an impressive 612hp and 1000Nm of torque. But the prices of both the G63 and G65 have been revealed. In Germany, these models will be priced at € 137,505 and € 264,180 respectively.
The new generation G-Class will be available in Germany from June 2012. But the V12 powered G 65 AMG will not be available in the UK and the US.
[Via MBPassion]