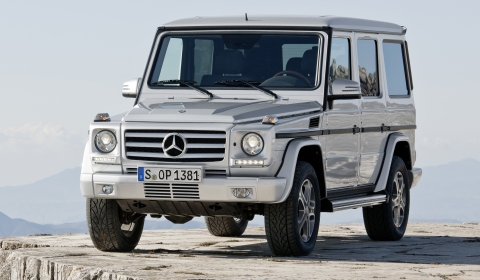 Mercedes-Benz has upgraded their G-Class with new engines, an extended range of appointments, a new upgraded interior and a few discreet external modifications. New to the range are the G 63 AMG with an eight-cylinder biturbo engine producing 544hp and 760Nm of torque and the G 65 AMG with twelve-cylinder biturbo engine.
The range of engines in the G-Class includes the G 350 BlueTEC and the G 500, both as a long-wheelbase station wagon, plus the G 500 as a short-wheelbase Cabriolet model. The basic version of the long-wheelbase station wagon model is the G 350 BlueTEC with V6 diesel engine and a displacement of 2987cc. The four-valve engine has an output of 211hp at 3,400rpm and has available torque of 540 Newton meters across an engine speed range of 1,600 to 2,400rpm.
One alternative to the diesel engine is the G 500, with its 5.5 liter V8 petrol engine. This has an output of 388hp and offers a torque of 530 Newton meters. The same engine is also used in the G 500 Cabriolet. Both the G 350 and the G 500 feature the 7G-Tronic Plus automatic transmission as standard.
New to the range is the G 63 AMG with V8 biturbo engine (544hp and 760Nm of torque), which features the ECO start/stop system as standard. The engine range has been extended by the addition of the G 65 AMG with V12 biturbo engine (612hp and 1,000Nm of torque), making this the most powerful series-produced cross-country vehicle in the world.
New LED daytime driving lamps and new exterior mirrors bring a few discreet changes to the exterior appearance of the luxury off-roader. The AMG versions also feature a new AMG radiator grille with double louvres, plus distinctive new bumpers with large air intakes, red brake callipers and 20 inch wheels.
The range of safety features can be optionally extended with the addition of Blind Spot Assist, the parking aid Parktronic and the adaptive cruise control system Distronic Plus.
Inside the cabin, the instrument cluster and center console have been completely redesigned. It now features a colour screen, between two new round dials. The car features a Comand Online infotainment system, including a navigation system and internet access as standard.
The new generation G-Class will be available from Autumn 2012. The G 500 and G 65 AMG will not be available in the UK.