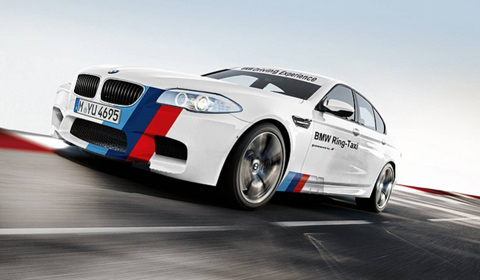 For most people the best, fastest and undoubtedly the safest way to experience the legendary 20,8km long Nordschleife is to step aboard the BMW Ring-Taxi. Since last week the thrilling rides in the Ring-Taxi has started again with the brand new 2013 BMW M5.
The fifth generation of the BMW M5 is powered by a high-revving 4.4 liter V8 engine which provides 560bhp. It can accelerate from 0-100km/h in just 4.4 seconds, and 0-200km/h in only 13 seconds. The top speed is electronically limited at 250km/h.
Three people could taka a seat in the M5 which will driven around the Nürburgring by experienced instructors from the BMW Driving Experience. Reservations can be made online at a rate of € 216,- at the website of BMW Motorsport.
[Via Teamspeed]