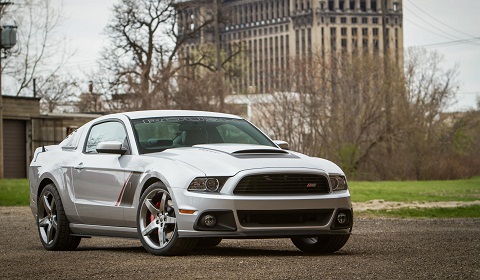 Roush recently unveiled their performance upgrades to the 2013 Ford Mustang. The kit comes in three stages ranging from styling to a 565hp power upgrade. The upgrade are available now from Roush and Roush approved dealerships.
The Stage 1 Roush Mustang features just exterior styling enhancements. Roush calls it the "R6" aerobody package, it gets a newly designed upper grille, a high-flow lower grille, corner fascia aero pockets with driving lamps and a front chin splitter. Moving backwards you see a new rocker panel, new rear fascia side splitters, a three-piece rear decklid spoiler and a new rear bumper complete with diffuser and dual chrome exhaust tips.
A Stage 1 badge is fitted to the upper grille, as is a faux gas cap and Roush graphics. Inside, Roush embroidered floor mats, a Roush center console button and a Stage 1 plaque.
The Stage 2 kit gives you a performance handling package featuring a larger, stiffer front stabilizer bar, twin-tube shocks, increased rate springs and new bushings. Finally, Roush have also fitted a set of 18 inch by 10 inch, cast aluminum, five-spoke wheels wrapped in Cooper RS3 tyres. It also gets the Stage 1 modifications.
Finally, the Roush Stage 3 kit adds some extra performance to the 5.0 liter V8 powertrain. The Roush Stage 3 Ford Mustang gets a total of 565hp and 505lb-ft of torque. Roush have fitted an R2300 supercharger, adjusted the ECU, an RS3 graphics package and a three year/36,000 mile powertrain warranty.
A range of other options are also available including a custom gauge cluster.