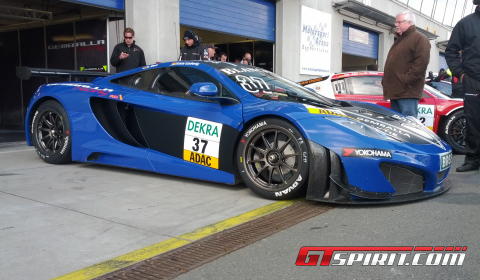 The new Gemballa Racing Team has started the 2012 season in the German ADAC GT Masters last weekend. Over the two days – Saturday and Sunday – the Frankfurt-based team showcased the potential of the brand new McLaren MP4-12C GT3 racer.
Gemballa Racing and Doerr Motorsport (with a white McLaren GT3) are the two teams that will compete in the German VLN series, which includes the famous 24 Hour Nürburgring endurance race in May.
We visited the event on Sunday and shot a series of photos for you in the pitlane and on the grid at the Motorsport Arena Oschersleben near Berlin. You will see the team working on the car, and the drivers preparing themselves for the race. The first driver on Sunday was Luca Ludwig, followed by team manager Sascha Bert, who switched racing seat with Luca during the race.
Just outside the pitbox and next to the team's transport truck two hypercars were parked by the owner of the team. Next to the Bugatti Veyron Sang Gemballa Blue wrapped by Cam-Shaft Premium Wrapping, we came across the Matte Black Koenigsegg Agera X we featured before on our front page. The owner of both cars is also the owner of the Gemballa Racing team.
In the first race, Dino Lunardi and Maxime Martin secured the opening win at Oschersleben for their BMW Alpina after a canny choice of tyre in poor weather conditions. Christian Engelhart in a Porsche 911 and Sebastian Asch in a Mercedes-Benz SLS AMG had a scrap for victory during the second race. Engelhart finally edged in front to claim a win for himself and team-mate Nick Tandy.
Gemballa Racing did not finish in the second race and finished 11th in the first race on Saturday. Next up are the Easter races in Zandvoort, the Netherlands next weekend.