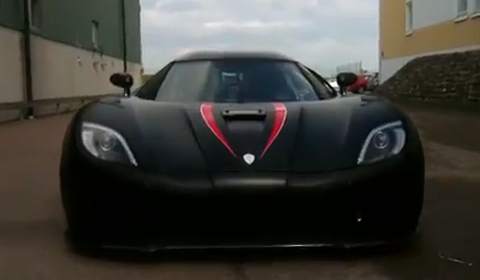 One of our dear friends bought himself a new toy; the world's first matte black Koenigsegg Agera. The supercar is part of an extensive lineup of supercars and will officially be handed to the new owner this Friday.
The 4.7 liter V8 engine produces 910hp at the 6850rpm-redline. Torque hits 1100Nm at 5100rpm. The Agera catapults you from zero to 100km/h (62mph) in 3.1 seconds and 200km/h (124mph) in 8.9 seconds. Top speed is estimated at 390+ km/h (245+ mph).
According to the owner, the Swedish supercar includes some additional features making it an unique special edition; Agera X. One thing is for sure, the matt black exterior trim makes it a stunning looking sports car. It is unknown if the owner ordered the £ 17,593 roof-box and the set of Koenigsegg skis.