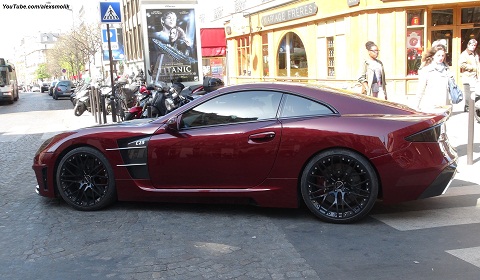 Alexsmolik also managed to capture the extremely rare Carlsson C25 Royal in Paris over the weekend. One of a planned production run of 25 cars, and with less than 5 produced to date, this is an extremely rare sighting indeed! What makes it even rarer is that this example uses a carbon fibre roof construction to reduce weight even further! It is a one-off.
The Carlsson C25 uses the Mercedes-Benz SL65 AMG as a base. To this, Carlsson add a variety of modifications to take the six liter V12 Biturbo engine all the way to peak power outputs of 753hp and 1150 Newton meters. 0 to 100km/h (62mph) is achieved in only 3.7 seconds and top speed is an impressive maximum speed of 352km/h (219mph). It cost around 430,000 euros and we are assuming that Carlsson still offers the package today.
It features a full carbon body which saves 100kg of body weight. Carlsson also removed the folding roof mechanism to reduce weight. It's an interesting thing to look at. It's definitely one of our favourite sightings too! Alex said that the sound was a little disappointing but this was a conscious choice made by the German tuner to make the car more civilised and capable of day-to-day use.
For more details on the Carlsson C25, please visit our earlier post.