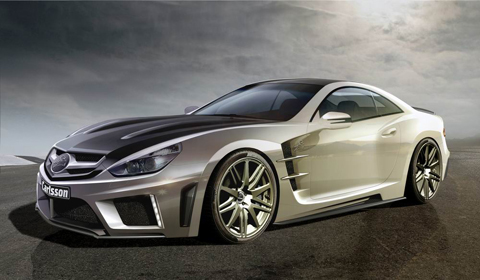 Carlsson plan to release a new, limited edition, 'Super-GT' at the 80th Geneva Auto Salon. Limited to just 25 pieces, the C25 will be the Carlsson 'flagship' model. Developed entirely in-house, all of the 2010 models have sold out. Of the 25 cars to be delivered, all of will reach separate countries guaranteeing exclusivity.
The philosophy for the project is centered around the idea of a powerful supercar, that is as comfortable on the track as it is on the morning commute. Having said that, the claimed power outputs of 753hp and 1150 Newton meters suggest that performance will probably be mind blowing. The power comes from a six liter V12 Biturbo engine, most likely sourced from AMG. 0 to 100km/h (62mph) is achieved in only 3.7 seconds and top speed is an impressive maximum speed of 352km/h (219mph).
Suspension comes in the form of an intelligent lowering system named the 'C-Tronic Suspension System' which automatically recognizes the road characteristics and adapts the suspension setting accordingly. Wheels weigh in at just 11.2kgs and measure 9.5×20 and 12×20 inches with rubber of 265/30 and 325/25. The Carlsson brake system stops progress with 405 millimeter slotted race brake discs at the front and 380 millimeter discs at the back.
As the C25 takes most of its technology directly from Mercedes-Benz current range, the C25 will be serviceable at any Mercedes-Benz dealership.
On the inside you will find generous use of real carbon, tanned buffalo leather and ultra-suede in special colours. Carlsson state, "for driveability reasons, Carlsson deliberately refrains from race seats, race straps, rollover devices and extreme lowering."
Markus Schuster, Carlsson CEO, describes the car: "There are more than enough super sports car in this world which can only be safely driven on a race track. Therefore, we deliberately wanted to develop a car which is highly exclusive on the one hand and can be used for the daily journey to office on the other hand. Therefore, a Super-GT which can accelerate from 0 to 100km/h in only 3.7 seconds and still offers a very pleasant driving comfort. All security-relevant regulations such as pedestrian protection, crash behavior, ESP, ABS, Airbag systems are identical to large series editions with most modern standards."