Gumpert have released official details and an official photo of the Gumpert Apollo Enraged due to debut at the Geneva Motor Show 2012 starting today. A small amount of details have been released through Gumpert's Facebook page over the weekend, however, now we have an official photo and all the specifications to share with you. Just to recap, it is a limited edition model and only three will ever be produced!
To start with the mechanics. The Gumpert Apollo Enraged gets a 4.2 liter V8 twin-turbo engine with five valves per cylinder, four overhead camshafts and hydraulic valve clearance compensation. Gumpert have also fitted a twin-flow exhaust system with valve control and a manual switch-off function, dry sump lubrication, a traction control system (ASR) adjustable from 0-25 percent with switch-off function and ensured that the Gumpert Apollo Enraged meets emission standard Euro 5.
Whilst that may appear a lot of jargon to both you and me, essentially it means the following. 780hp at 6,000rpm, 920Nm of torque at 4,000rpm and a redline of 7,200rpm. Enough for a top speed of 330km/h depending on the gearbox ratio and a 0-100km/h time of 2.9 seconds with 200km/h taking just 8.7 seconds.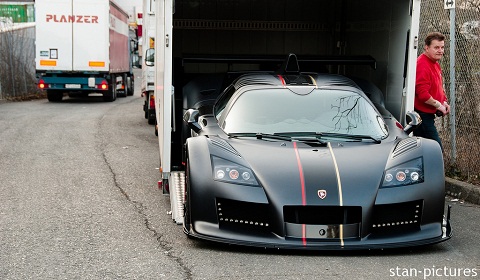 All that is made possible thanks to a number of technical functions. The first being the double wishbone suspension with adjustable rebound and compression. This also features adjustable ride height between 40 and 120mm thanks to push rod suspension, a front anti-roll bar and a titanium rear anti-roll bar. The gearbox is a fully synchronised twin-plate clutch seven-speed paddle shift transmission with two gearbox settings and a locking differential.
Weight has been measured at 1,175kg, around a 25kg saving on the Apollo S. This has been acheived by optimising the production of components and the underbody construction, use of a lithium battery, a control unit box instead of a trunk and the ceramic brake system. The brakes are 396mm internally ventilated ceramic brake disks with fixed six-piston callipers on both axles. The wheels are forged Gumpert aluminium alloy wheels with centre locking and Michelin Pilot Super Sport tyres in sizes 265/35ZR19 and 345/30ZR20.
The shell of the car itself is a mixture of aluminium frame and carbon fiber. It includes a new set of aerodynamic aids. Vortex generators, a carbon rear wing and carbon louvers for wheel ventilation are all aimed at increasing downforce. The final pieces include an F1-style airbox for a RAM air effect, an air lift system, LED daytime running lights unique to the Enraged and a special exterior design.
Inside you get another unique design for the Gumpert Apollo Enraged. It features anthracite Alcantara materials, a four-point safety harness, a fire extinguishing system, climate control, a digital LCD dashboard and a DVD-media center with including Navigation system, rear view camera, rear view function when driving, a bluetooth handsfree set and iPod control.

Basically, we could have said it was really fast and actually quite comfortable on paper, but the German's prefer to give you all the details, so we thought it was only right that we shared them! Stay tuned for more from the Geneva Motor Show 2012 and more pictures of the Gumpert Apollo Enraged from the show floor!