Via official documentation we can confirm that the 2013 Audi RS4 Avant will get 450hp from its high-revving 4.2 liter V8. The engine is linked to a seven-speed S tronic transmission with launch control program. This powertrain is similar to the Audi RS5, which is currently available in Europe and heading to the US.
The 4.2 FSI delivers 450 horsepower at 8,250rpm and a maximum of 317lb-ft of torque between 4,000 and 6,000rpm. The 2013 model is based on a facelifted version of the A4.
The document shows all the models that will be released at the Swiss car show starting in March. The RS4 Avant and the 360hp Audi TT-RS Plus are the only vehicles, in which we are interested. The concept cars are not mentioned on the list.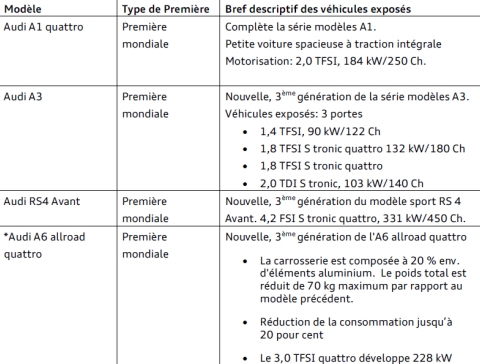 [Via Autoblog.nl and rendering via Fourtitude.com]