CAR Magazine has revealed a series of spyshots showing a completely finished McLaren MP4-12C Spyder. Somehow they managed to shoot a series of photos of a dark blue roadster parked inside a garage.
According to the magazine you are looking at a prototype, which is still a styling buck without an engine. The three-piece roof manufactured by Lotus is clearly visible. A few weeks ago we reported to you that the hard top roof is made from carbon fiber keeping the weight as low as possible, but CAR states it is made of aluminium and plastic.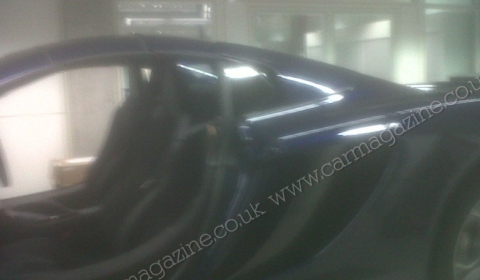 CAR's sources suggest the three-piece roof will convert the McLaren MP4-12C from coupe to roadster in around 17 seconds, and will operate at speeds of up to 50mph in case you get caught short at the traffic lights. They also say it is more like a targa top. Two high-rise buttresses will keep the driver and passenger safely cocooned from the elements.
The mechanicals should remain the same as the coupe's. So you'll find a 592bhp twin-turbocharged 3.8 liter V8 engine perfectly fitted behind the cabin. A seven-speed twin-clutch Seamless Shift Gearbox (SSG) is to be the only transmission offered with shifting controlled via paddles mounted behind the steering wheel.
Expect a release somewhere later this year.