What happens when your Bentley is boring you, your Lamborghini isn't practical enough and your Cayenne isn't exclusive enough to take to a ski-resort? Well, you ask Ferrari if they can build something that can do all of those things! That's the reason Ferrari builds the FF, because their customers simply asked for it. A supercar with four-wheel-drive, four seats and enough space to take your gear. But it also has to be a real Ferrari.
About three years ago I read a rumor that claimed Ferrari was planning to build a SUV. Months went by. I soon forgot about it, until a test-mule was spotted on back roads somewhere in snowy Europe. It looked like a 612 Scaglietti with different front and rear wheels, no badges and very large ceramic brakes. I found a freshly uploaded video-clip of it. I immediately noticed not only the rear, but also the front tires struggling for grip on the snowy surface. "Very odd", I thought, "Ferrari would never build something with four-wheel-drive". Even weirder was when I hit the replay button, the clip was gone. I never saw it again.
Two years later I'm standing on top of the icy Dolomites, with next to me; my father, a special snow track and a 650hp, four-seater, Italian supercar. The perfect combination for a huge half-a-million euro crash! I jumped into the back seat, my father behind the wheel and a Ferrari engineer in the passenger seat. Very cautiously we set off in snow-mode. The engineer then tells my dad to put the car in sport-mode and just floor the throttle. The FF has a pretty clever four-wheel-drive-system. The front and rear axles aren't connected to each other. The power is send mostly to the rear wheels, but when it needs more traction, the front wheels can be driven individually too. In the snow it feels the same as Nissan's GT-R system on a dry track. The front wheels pull the car trough the corner, while the rear wheels push just enough without over steering, making it possible to always have grip.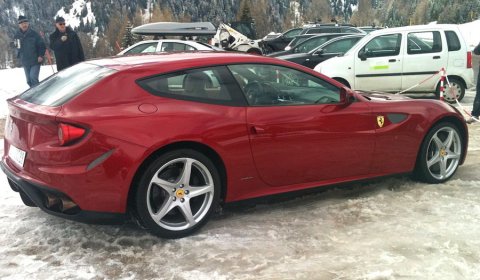 Unfortunately there was not much time left to take the car for a spin through the mountains. Of course I still wanted to test the FF as an everyday car. So in September I entered a charity event with it. Visitors could buy a ticket for € 45 (every euro to charity) and get a ride in the passenger seat of one of the supercars. People could register from 9 a.m. It only took fifteen minutes before the FF was fully booked. Fortunately for those not able to book an FF-ride there were a lot of other options. A 458, a 430 Scuderia, a Gallardo Spyder, some Aston Martin's, but nothing was booked as quickly as the Ferrari's!
I never imagined it being so much fun to give people such an experience! Most of them didn't have a clue how 650hp feels like. They all were talking and asking questions in the beginning, but the moment I put my foot down they were quiet! Probably listening to the mighty V12 screaming as hard as it could. Every time reaching 240km/h in the blink of an eye! The 458, full throttle, in front easily being followed by the big Italian GT, with four people in it. One guy even screamed harder than the Ferrari itself, "POWER!, POWER!". I drove non-stop until 7 o'clock, burned through two and a half tanks of petrol and did around fourty rides. The best one with a lady, asking if the FF runs on regular petrol or on kerosene.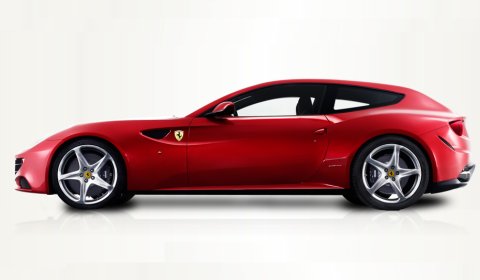 Luckily I had the car for one more day. That morning I read all the documentation from the press-package I got in Italy. I also drove my special "testing route" a few times to really get a good comparison with the 458 Italia and Bentley GT. I have to say, it feels heavier than a 458 (duh!), but you wouldn't give it the 1,800 kilos it actually weights! Strangely enough the FF also gives me more confidence than a 458, approach a corner quickly and just plant it in. That is something you absolutely wouldn't think about doing in a Continental GT, which by the way, is 500 kilos heavier than the FF! That weight is probably why the FF is better fun, it's more nimble. Actually, so nimble, if I had one I would take it to the racetrack.
What also caught my attention was the gearbox. The Italia has a double clutch system as well, but in the FF such a system feels more at home. It is so smooth! A very big improvement since the paddle-systems introduction. I also like the way they put one gearbox in the front of the FF and one gearbox in the back for better weight distribution. It also has something to do with the clever four-wheel-drive-system.
So is there anything I don't like? Yes, there are. I don't like the look of the sat-nav. It looks like it doesn't belong there. Too cheap in comparison with the rest of the interior. I mean, everything you see and touch is leather covered (even the boot!) and gives a perfect quality feeling. The ugly sat-nav system and its plasticy buttons just spoil the looks and therefore my overall judgment of the dashboard.
Also I like drifting. Even more with a big luxury horsepower-machine, like an M5. I would really like to see a button for switching off the four-wheel-drive-system, so that you can just shred a set of rear tyres. There is no better feeling than controlling a 650hp beast sideways!
In my opinion the FF is still too heavy. But, when I place that into perspective, there isn't anything like it for sale. If this is Ferrari's "SUV", then please let them build a four-door saloon too! All together; the sound, the performance, its cornering ability make it a real Ferrari! It is an extraordinary machine!