Interested in owning an unique supercar? Here is your chance as one of the only six built street-legal Jaguar XJ220S Coupe's will be auctioned this week.
The Jaguar XJ220 is one of the most impressive supercars of the nineties. The mid-engined British car was initially conceived to compete with cars such as the Ferrari F40 and Porsche 959 and to re-capture the glory years of Jaguar racing from the 50s and 60s. Although production was never planned, response of the public at its unveiling in 1988 was so overwhelming that a feasibility study was carried out see if the car could be made production worthy.
The production version of the Jaguar XJ220 was powered by a 3.5 liter twin turbocharged V6 which offered 542 horsepower and 644Nm of torque. A total of 281 Jaguars were produced between 1992 and 1994. Until the arrival of the McLaren F1 in 1994, the XJ220 was the fastest production car in the world with a top speed of 350km/h.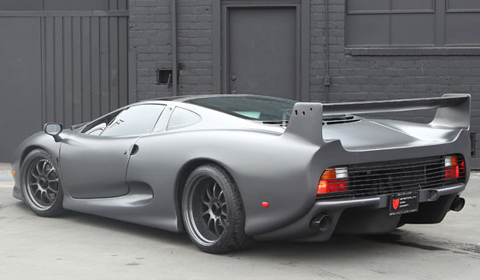 In collaboration with Tom Walkinshaw Racing (TWR), Jaguar built a racing version called the XJ220C to compete in GT racing. In order to meet the homologation requirements, Jaguar had to built at least five road-going versions of the XJ220C. Six were eventually built — five "standard" units and one additional "modified" version — and these were designated as XJ220S.
Whereas the body of the production version of the XJ220 was made from aluminium, the Walkinshaw-built Jaguars were built in carbon composite to save weight. The standard XJ220 weighs 1,372kg (3,024lb), the weight of the XJ220S is only 1,080kg (2,379lb). The aerodynamics were also enhanced by adding a front splitter, wider sills and an adjustable rear spoiler.
TWR also tweaked the powerplant, resulting in a staggering 680 horsepower and 740Nm of torque. The Jaguar which will be auctioned comes with a little extra, the previous owner opted to have a titanium exhaust system by Tom Walkinshaw Racing installed at a cost of nearly $ 20,000. The engine received some further upgrades as well, resulting in an output of approximately 700 horsepower.
The XJ220S was also repainted to match the color of the Lamborghini Reventón. The leather interior was also completely refurbished. The original magnesium wheels were also refurbished and fitted with brand new tires. Since the early 2000s the owner has only driven about 1,200 miles in this British monster.
This unique car has an estimated value of $ 225,000 – $ 300,000 and will be auctioned in Phoenix, Arizona on Thursday the 19th of January. For more information visit RM Auctions.
[Via Leftlane]