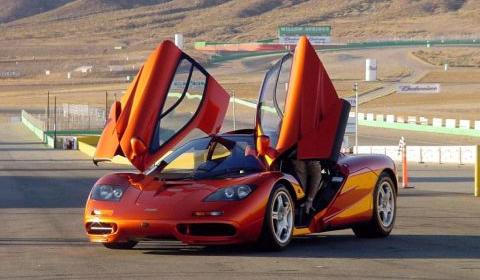 With the famous McLaren F1 becoming 25 years old the company is reached a new mile-marker. Back in 1963 the McLaren Racing Limited was founded by New Zealander Bruce McLaren but most of us will know the brand through the name of Ron Dennis who merged his company, Project Four Racing, with McLaren back in 1981. The official presentation of the car came in 1988.
The McLaren F1 was worlds fastest production car with a top speed of 386km/h (241mph). That speed was achieved by using a 6.1 liter V12 from BMW origine creating 627bhp. Sprint time from stand still to 100km/h (62mph) was only 3.2 seconds, an absolute record for that time!
That record last for 10 years, when on February 28th 2005 the record got broken by a Koenigsegg CCR that managed to reach a topspeed of 387km/h (242mph) on the Nardo circuit. Today the speedrecords got broken by the Bugatti Veyron with 407km/h (254mph), the Koenigsegg CCXR with 409km/h (257mph) and the Aero SSC with 414km/h (259mph).