A remarkable story appeared in yesterdays edition of the Dutch newspaper AD. Frits Hessing, the Dutch importer of luxury brands Bentley, Bugatti, Lamborghini, Maserati and Rolls-Royce was declared bankrupt this week. His dealership was especially renowned in the Netherlands for their eye-catching showroom next to the highway A2 from Utrecht to Amsterdam.
The default of Hessing was not caused by bad sales, on the contrary — sales of Rolls Royce in the Netherlands were actually above expectations last year. Bad investments in real estate with the showroom being used as collateral for the loans lead to its default.
But now it appears Hessing wasn't the only one who made a bad investment. Dutch property tycoon Arie van Erkel (pictured above) has ordered a Rolls-Royce Ghost worth € 350,000 via the Hessing dealership. Van Erkel made his 20-percent down payment, but while waiting for his car he suddenly realized he didn't liked his impulse purchase. So he went back to Hessing to cancel his order for the British luxury car.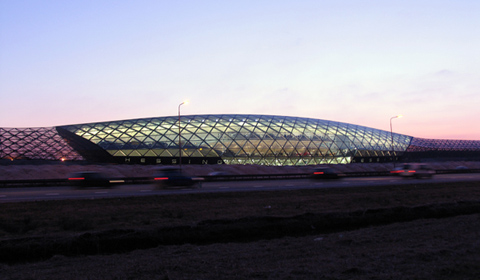 Hessing was not amused by his withdrawal from the transaction and the dispute was settled in court. The judge ruled that this order was a binding agreement. Therefore Arie van Erkel was obligated to fulfill his contractual promise of purchasing the Rolls-Royce. Annoyed he paid his lawyer, made a further down payment on the Ghost, plus he was ordered to pay court costs. The combined damage for Van Erkel was more than € 300.000.
But before Van Erkel could receive the keys of his (not so beloved) Rolls-Royce Ghost, the Hessing dealership filed for bankruptcy. All of Hessing's asserts — including all cars, thus also the RR Ghost — are seized to be sold for the benefit of all creditors. It will be investigated what priority the creditor will have against other creditors who may wish to seize Hessing's properties.
This implies that it is likely the 62-year old millionaire will never receive 'his' Rolls-Royce, which haunts him like a real ghost. Arie van Erkel said he is "fed up with expensive cars", he will be driving around in his Audi A8 for now.