Exactly one year ago Reiter Engineering presented the Lamborghini Gallardo LP600+ GT3, a racing version of the production Gallardo adapted to comply with the FIA's GT3 class category. This car experienced a successful racing season and now the German tuner specialized in Lamborghini's is ready for the upcoming season as they unveiled the upgraded 2012 Lamborghini Gallardo GT3.
According to engineer and founder Hans Reiter, the 2012 Lamborghini Gallardo LP600+ GT3 is developed for endurance racing:
Our customers and ourselves proved already, that the Gallardo is a safe and fast car in sprint format races. Now we want to be successful at long distance races too. Our aim is, to have a reliable 24-hour race car, which is able to win.
Just as with the regular Gallardo the number '600+' refers to the amount of horsepower delivered by the modified V10 engine. A major difference compared to the LP560-4 is the fact that the car's four-wheel drive system has been removed. Instead, all power will be transferred to the rear wheels via a new gearbox. This Holinger gearbox is lighter and made of less parts than the former used version, resulting in a more direct and precise shifting process.
The aerodynamic package is also updated. Reiter installed a bigger splitter at the front and double dive plates for more downforce. The suspension brackets, spring pairings and performance brake kit are still subject of intensive testing. These parts will play an important role in the performance and handling of the car, as explained by Hans Reiter:
The idea behind the new kinematic is to offer more mechanical grip due to a higher static roll stiffness, which allows softer heave springs. We also should reduce the pitch moment under braking. This would allow softer springs in the front, which increases braking forces and response to the driver.
Thanks to the softer springs, the Reiter Gallardo LP600+'s handling over the curbs will be improved. Another advantage is the fact that this package will improve the longevity of the tires. For stopping a new six-piston caliper AP Racing brake system is installed.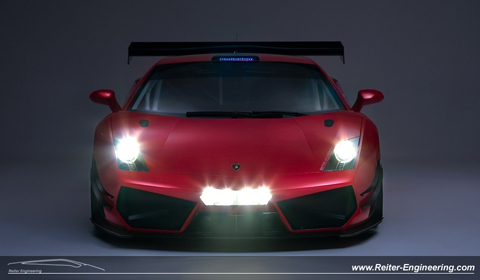 The first serious test for the Reiter Lamborghini and the endurance parts will be at the 24-hours race in Dubai, which is scheduled for the weekend of January 12-14 and the 12-hours race at Yas Marina Circuit in Abu Dhabi on January 20.
The price tag has not been announced, but the 2011 version of this bull was offered for € 288,500 or $ 385,000 excluding VAT.