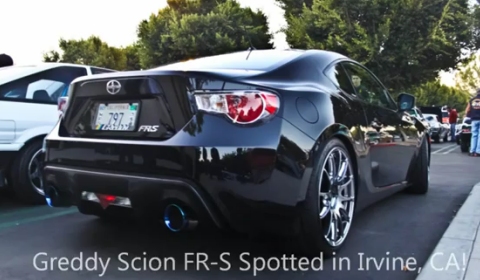 The American counterpart to the Toyota GT-86 and the Subaru BRZ is the 2013 Scion FR-S. Nathan Craig spotted the sports car in Irvine, California. The car was parked at the local Cars & Coffee event.
The Scion FR-S is powered by a 2.0 liter front boxer engine that can also be found on the 86 and the BRZ. The naturally-aspirated 2.0 liter four-cylinder boxer engine provides 197bhp at 7,000rpm and 205Nm of torque at 6,600rpm. The Subaru BRZ will be more powerful with a total of 300hp. Power is transferred to the rear wheels through a limited slip-differential and a standard six-speed manual. An automatic six-speed transmission with paddle shifters is optional.
If you would like to know more read our story about the upcoming Toyota GT-86.