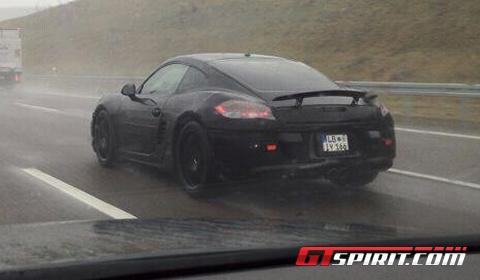 The Germans at Porsche are planning the release of a new Cayman model somewhere next year. We spotted the new model on a highway close to Stuttgart yesterday.
The black test mule shows a much more fluid design than the current model. The 2013 model also appears to have a lower rear profile and a much larger rear window than the previous model. At the front a new bumper features integrated daytime running lights and the taillights, which are reminiscent to the latest generation Porsche 911 (991). There is an automatic spoiler positioned exactly in between the rear lights.
The new Cayman will essentially be a hard-top version of the 2013 Boxster. They will be sharing everything from interior panels to powertrains and wheel designs.
On the subject of power trains, we expect to see the same setup as the Boxster, which will be introduced at the Geneva Motor Show 2012. The Cayman is expected to be powered by a 2.7 liter flat six producing around 265 horsepower, and the Cayman S will be powered by 325hp 3.2 liter flat six. Reportedly the flat-six engine will be replaced by a new twin-turbo 2.5 liter four-cylinder engine by 2015.