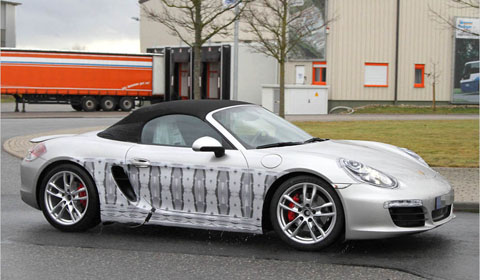 The current generation of the Porsche Boxster entered the market in 2005 and is due to be replaced by a new model. An almost undisguised version of the next generation Boxster was spotted while testing in the vicinity of the company's headquarters in Stuttgart.
Compared to the current model, the exterior of the 2013 Porsche Boxster has been slightly modified. The new bumper featuring integrated daytime running lights and the taillights are reminiscent to the latest generation Porsche 911 (991). The automatic spoiler is positioned exactly in between the rear lights.
The overall size of the Boxster appears to be larger than the current model. Despite an increase in size, the weight of the mid-engined roadster will drop thanks to extensive use of lightweight materials like aluminium.
The Boxster is expected to be powered by a 2.7 liter flat six producing around 265 horsepower, and the Boxster S will be powered by 325hp 3.2 liter flat six. Reportedly the flat-six engine will be replaced by a new twin-turbo 2.5 liter four-cylinder engine by 2015.
The third generation of the Porsche Boxster will be unveiled at the Geneva Motor Show next March.
[Via Auto-News.de]