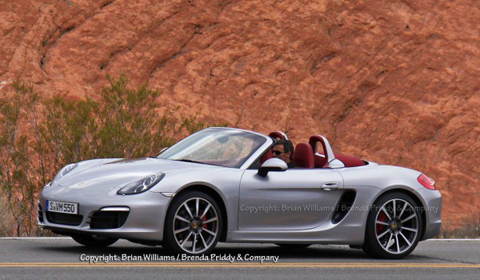 Back in July we showed you spyshots of the next generation Porsche Boxster testing at the Nürburgring. At that time we did not now how the new baby Porsche would look like but thanks to professional spy photographers Brian Williams and Brenda Priddy we can now show you pictures of a totally undisguised Boxster S testing in the US.
With all camouflage removed, we can clearly see the body lines of the new convertible. First fact that catches eye is that the typical Porsche looks are still there while the side of the car now got a serious update by using sizable air inlets positioned just forward of a set of equally bold wheel arches. Toward the rear of the vehicle, we can clearly see a new integrated lip spoiler that crosses the back of the car.
What engine the Boxster S will get is unknown so far, but it's more than likely that it will be a refreshed 2.5 liter flat four-cylinder engine producing up to 360hp. Please stay tuned for more and find more pictures via Autoblog.com.