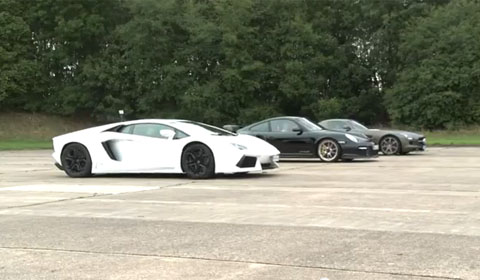 The Lamborghini Aventador LP700-4 is currently one of the fastest cars available. Acceleration from standstill to 100km/h is done in just 2.9 seconds, to 200km/h in less than nine seconds and the top speed is 350km/h.
These performance figures are made possible thanks to its 6.5 liter V12 engine with an output of 700hp and 690Nm of torque. Weighing just 1,575 kilograms, the Aventador has a power to weight ratio of 2.25kg/hp.
If the Lamborghini Aventador can live up to its performance claims, the four-wheel drive supercar should easily beat the much cheaper Porsche 911 GT2 RS and Mercedes SLS AMG. The guys of Autocar organized a drag race on an empty airstrip featuring the Italian supercar and the two German rivals. Check the video below to see if the Lamborghini can indeed live up to its performance claims.
For our extensive review and road test of the Lamborghini Aventador click here.