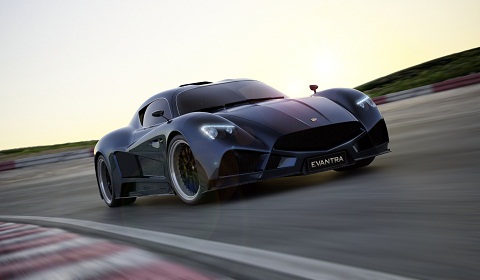 It's official, Faralli & Mazzanti new offering will be called the Evantra. A while back, we reported on the Faralli & Mazzanti Mugello, which we're now told was the concept for this, the Evantra. The Faralli & Mazzanti Evantra is completely production ready. With only five built each year, it will be one of the most exclusive supercars on the market.
The name comes from the ancient etruscan language, Evantra for the etruscan was the goddess of immortality. The design has been supervised by Luca Mazzanti together with Zsolt Tarnok. It features a lightweight steel chassis with either a composite material or handcrafted aluminum body.
Power comes from a 3.5 liter flat-six engine with a choice of natural aspiration, producing 403hp or a twin-turbo unit producing 603hp. With the latter instaled, the Evantra is capable of a 0-100km/h time of 3.7 seconds. Overall, it weighs just 1,200kg.