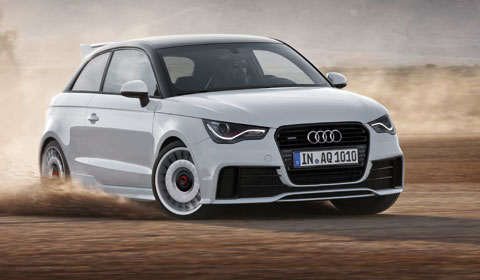 Audi released the 2012 Audi A1 Quattro today. The new head of the compact class as they call it is limited to just 333 cars. Why a sporty and practical car like this is limited to just 333 units world wide goes beyond us. But for future A1 Quattro owners its nice that they have a car that is as exclusive as the Audi R8 GT which also saw just 333 pieces build.
The Audi A1 Quattro has a four-cylinder two-liter TFSI engine, turbocharged engine which produces 256hp and 350Nm of torque. The Audi A1 quattro sprints from zero to 100km/h in 5.7 seconds and has a top speed of 245km/h. Not bad for a small city car with AWD.
Audi claims the engine has been optimized for both high performance and low fuel consumption. This should keep average consumption to 8.6 liters of petrol per 100km. The 2.0 TFSI delivers its power to the quattro permanent all-wheel drive system via a precisely shifting six-speed transmission. The heart of this system is an electronically controlled, hydraulically actuated multi-plate clutch which under normal driving sends the power to the front wheels. If traction decreases there, the clutch can transfer torque steplessly to the rear axle. If a wheel on one of the axles should slip, it is braked by the electronic differential lock.
It doesn't take much to notice the sporty and different exterior of the Audi A1 Quattro that should give it a distinctive look over the regular versions of the Audi A1. This is also continued in the interior where a sporty black dominates.
The Audi A1 quattro will be available from the second half of 2012 and will be supplied to customers with a full range of equipment. It includes many features taken directly from the luxury class, including xenon plus headlights, high-beam assistant, adaptive brake lights, LED interior lighting package, light and rain sensor, automatically dimming interior mirror, rear parking system, automatic air conditioning, alarm system, storage package, convenience key and cruise control. Prices have not been announced yet but expect a large premium over the price of the entry level Audi A1.