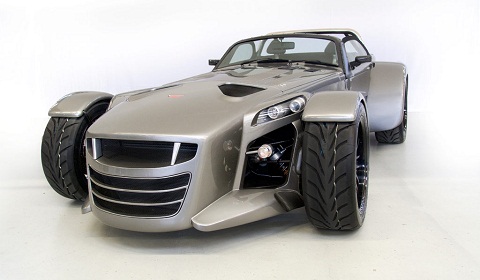 Almost a year after it was first teased, specialist sports car builder Donkervoort Automobielen of Lelystad, Netherlands has presented the next generation of their D8 range; the GTO. The Donkervoort D8 GTO has been in development for over two years and features a number of new features, including a new engine.
This time around, Donkervoort have chosen to use a, five cylinder 340hp 2.5 TFSI Audi motor. This makes it possible to provide either a standard 340hp model or an uprated 400hp model. Torque tops out at 450Nm from about 1,600rpm. To access the extra power, a switch is located in the dashboard, next to a button for the traction control, another first for the D8.
The D8 platform has had to be enlarged to take the bigger engine. About 35 centimeters has been added to the length and 15 centimeters to the width. The GTO shares only five present of its parts with the D8 270RS and about 30 present with the GT. Extreme performance is guaranteed thanks to a total weight of 700kg. The weight saving has been partly realised by a number of modifications to the standard Audi engine. A new intake manifold has been added which is one of the reasons Donkervoort were able to reduce the engine's weight by 30kg.
New manufacturing techniques were used for the chassis and the doors are now one-piece. The doors can withstand crash forces of 1,500kg and the hinges are rated at 1,100kg despite the low total weight of only 980 gram. The front and rear axles have also been equipped with a totally new anti-roll bar.
Production of the new car starts in 2012 with delivery in the summer. The price of the new GTO is between € 100,000 and € 150,000 excluding taxes. At the first viewing half of the first 25 specially designed GTOs were sold.