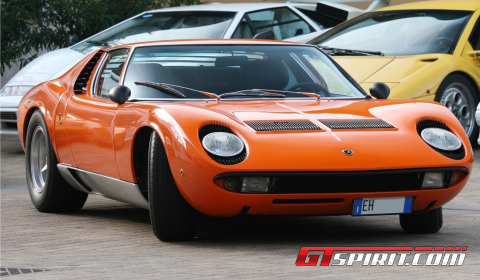 Following our publication of three videos from the Lamborghini Club Italia End Year Meeting 2011 earlier today, we can now show a large series of pictures with the best of the best made by our Italian reporter Matteo. The lineup of Lamborghini sports cars you are going to see in the gallery is in one word; EPIC!
The Lamborghini Club Italia choose Supercar Valley and specifically Modena and its surroundings to close the last and most important gathering of the year with the presence of more than fourty members. A weekend to discuss the major events for 2012 and a delight for fans who gathered at two spots, one of which was in front of the Pagani factory.
Many cars were present of which two Miura S, five Countachs, a rare Murcielago 40th anniversary and a limited edition Diablo SE. On Saturday Horacio Pagani welcomed the Lamborghini owners showing the factory and the latest model, the Pagani Huayra. In the evening a thick fog fell over the area and the Lambo group moved to the nearby hotel where the next day they had the traditional assembly to discuss the Club's events for 2012.
You want to see more? The complete series of 142 high resolution pictures can be found right here!