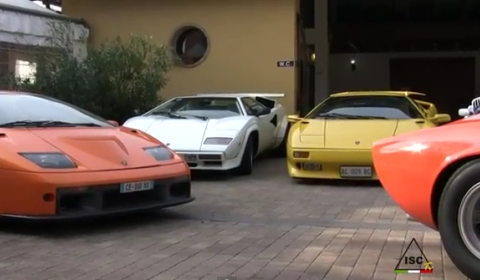 You may have noticed that GTspirit visited Italy in November. Part of our tour in Supercar Valley was the Lamborghini Club Italia End Year Meeting 2011, next to road tests of the Lamborghini Aventador, Performance and a first impression of the Pagani Huayra. Our reporter in Italy Matteo made these three videos of the Lambo event.
The Lamborghini Club Italia choose Supercar Valley and specifically Modena and its surroundings to close the last and most important gathering of the year with the presence of more than fourty members. A weekend to discuss the major events for 2012 and a delight for fans who gathered at two spots, one of which was in front of the Pagani factory.
Many cars were present of which two Miura S, five Countachs, a rare Murcielago 40th anniversary and a limited edition Diablo SE. On Saturday Horacio Pagani welcomed the Lamborghini owners showing the factory and the latest model, the Pagani Huayra.
The first post about the meeting includes three videos. The other post has all the pictures of the event and will be published during the day.