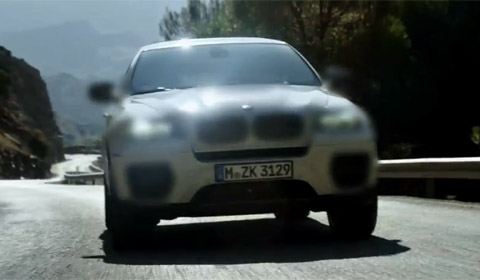 Following initial rumors BMW has released a new second teaser of the first diesel powered M — the X6 M50d — which will deliver an astonishing amount of performance considering its size and weight.
The high performance SUV — internally referred to as FH81 — will be powered by an innovative 3.0 liter tri-turbo, six cylinder engine. This diesel powered engine will produce an impressive 381 horsepower and 740Nm (545lb-ft) of torque. This should enable the X6 to accelerate from standstill to 100km/h (62mph) in 4.9 seconds, which is just 0.2 seconds slower than the X6 M.
According to the Munich based company, the X6 M50d will have a fuel consumption of 6.3 liter per 100km, or nearly 38mpg. The CO2 emission levels will be around 165g/km.
The BMW X6 M50d will enter production in April 2012. The Bavarian carmaker is also planning a similar variant for the 5-series, named the BMW M550d xDrive, which will feature the same engine. The M550d xDrive should be able to accelerate to 100km/h in just 4.7 seconds.
Both the BMW X6 M50d and M550d xDrive are destined for the European market, where diesel platforms are quite popular.
Brian Watts, BMW M GmbH Head of Global Sales and Marketing, said:
The BMW X6 M50d is a new kind of car. On every road, you feel like you're on a race track. It deserves the M-badge.
Sales Director Thomas Schemera is also very enthusiast about the upcoming X6 M50d:
It looks like a sports machine, it sounds like a sports machine. The steering is amazing for a street car. You don't fear stopping.